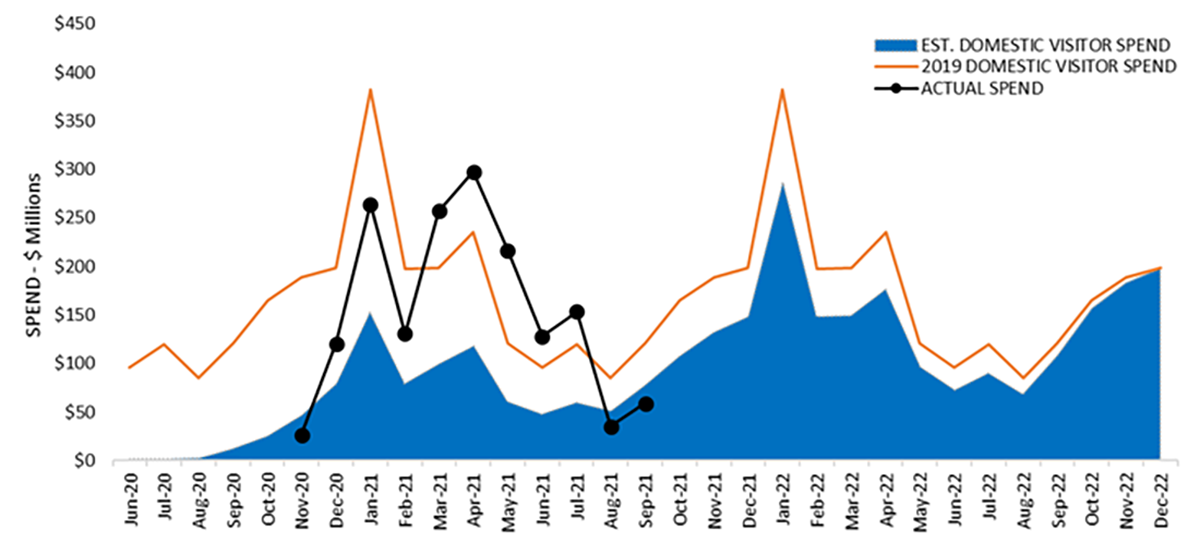 Visitor economy recovery
In developing the T21 Visitor Economy Action Plan 2020-2022, available data provided the basis for estimating visitor expenditure post-COVID using 2019 figures as a benchmark. The above graph demonstrates a higher than anticipated visitor spend in early 2021, indicating a stronger than expected recovery of Tasmania's visitor economy until the second half of 2021 when it dipped again due to various border closures.

The chart's orange line indicates monthly domestic visitor spend in 2019 pre-COVID, while the blue graph shows monthly domestic visitor spend as estimated from August 2020. The black line indicates the most up-to-date verified data (Tasmanian Visitor Survey, September 2021) demonstrating the unpredictable nature of market conditions.

While visitor numbers have not rebounded to the same extent and considering the international market has not returned as borders remain closed, it is encouraging to see this overall higher than anticipated visitor spend into Tasmania's economy.
About this strategy
T21 is a partnership agreement between the Tasmanian Government and the Tasmanian tourism industry represented by the Tourism Industry Council Tasmania (TICT).
The COVID-19 pandemic has severely impacted our tourism and hospitality sector and while times have been tough the foundations remain strong.
T21, as a well-established partnership, has developed the T21 Visitor Economy Action Plan 2020-2022 and this is focussed on rebuilding tourism and hospitality to once again be a valuable contributor to Tasmania's economy, growing jobs for Tasmanians and benefits for regional communities. For the latest priority actions read the T21 Visitor Action Plan - Priorities July to December 2021.


Keep informed
A one-stop-shop for industry recovery information is available on the Tourism Tasmania website. Please check this site regularly for important updates and subscribe to Tourism Talk for tourism and hospitality industry news, alerts and opportunities.
For more information email Tourism2030@tourism.tas.gov.au