Tourism towards 2030 –
A visitor economy for all Tasmanians
Tourism is important to Tasmania – since the launch of T21 annual visitor spending in Tasmania had grown by over half a billion dollars, contributing up to $3.6 billion or 11 per cent to Gross State Product. Prior to the COVID-19 pandemic there were over 43,200 people employed in tourism jobs (direct and indirect) right across our state. Through the T21 partnership, industry and government want to create a future for tourism that benefits all Tasmanians.
Our 2030 visitor economy strategy will build on the success of the enduring T21 partnership between industry and Government, by creating a shared vision for tourism in Tasmania over the next decade.
Extensive engagement was held with industry and broader visitor economy stakeholders in late 2019 to gain their views and input to a long-term vision for tourism in the state. Following further research and review to consider the impact of the COVID-19 pandemic on Tasmania's visitor economy, a new two-year T21 Visitor Economy Action Plan 2020-2022 was released in August 2020, and subsequently a longer-term vision through to 2030 will be developed and released for public consultation.
To assist in our planning, Deloitte Access Economics was commissioned (pre COVID-19) to provide a 10-year demand and supply forecast to inform policy, planning and investment in our future. Its findings are outlined in the Fact Sheet – Tasmania's 2030 Tourism Demand and Supply Forecast. This work is just one input in developing our new Strategy. Through our consultations, we will be using these insights, as well as industry and community aspirations to confirm our 10 year strategy.
An Enduring Partnership
T21 is unique in Australian tourism as an enduring partnership agreement between the public and private sectors to guide the development of a major destination. Since the original Tourism 21 agreement in 1997, successive Tasmanian Governments have worked with the Tasmanian tourism industry through the Tourism 21 partnership process.
The Tasmanian Government supports the growth of tourism in the state by driving demand for Tasmania through the marketing activities of Tourism Tasmania and on the supply side primarily through the activities of the Department of State Growth and the Department of Primary Industries, Parks, Water and Environment. These departments work collaboratively to provide and facilitate infrastructure, experience development and industry capability to underpin the Tasmanian visitor experience.
Across a range of agencies, the Government also invests in infrastructure, population growth, education, Antarctic pursuits, productive capability, advanced manufacturing and many other activities that enhance the Tasmanian brand.
Tourism Industry Council Tasmania (TICT) is the peak industry body representing the private sector in the Tasmanian tourism industry. TICT is a not for profit organisation governed by a board of industry representatives from sectors of the Tasmanian tourism industry and the broader visitor economy. It provides a strategic direction and united voice for the sustainable development and growth of the Tasmanian tourism industry, and advocates on their behalf on policy matters affecting the sector.
The Tasmanian Government and TICT as signatories to this agreement recognise there are many sectors of the Tasmanian economy and many organisations that have a critical role in realising the vision of a vibrant visitor economy in Tasmania and in achieving our goal of restoring the value of tourism to Tasmania, and realising a longer-term vision to be a global leader in responsible and sustainable tourism.
This includes all levels and agencies of the Tasmanian Government, local government, the Australian Government, the Tasmanian Hospitality Association, Regional Tourism Organisations, the University of Tasmania and TAFE Colleges, Business Events Tasmania, our air and sea carriers, representative sectoral organisations and many others.
The Tasmanian Government and TICT must provide leadership, commitment and accountability on behalf of the state's public and private sectors for the implementation of this agreement.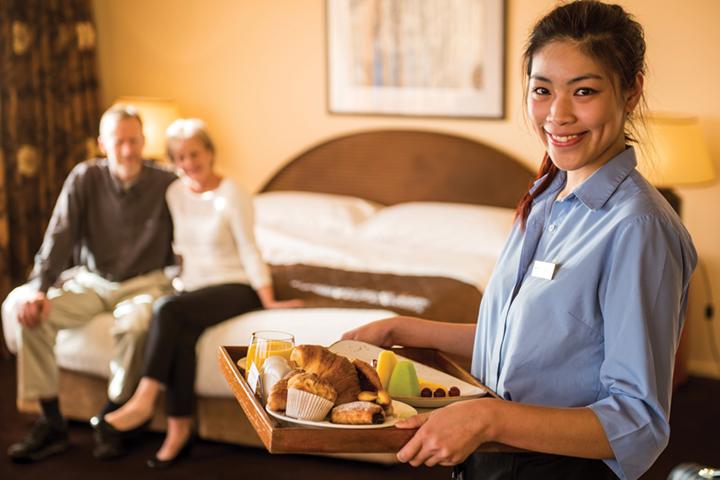 More Tasmanians depend on tourism for their employment than any other Australian state or territory.
In 2019 pre COVID, visitors to Tasmania spent a total of $2.54 billion during their stay1. This money was spent throughout the state in local communities, and sustained many small businesses that directly serve visitors e.g. retail outlets, petrol stations, hotels, cafes, pharmacies, bakeries, as well as businesses that service them e.g. tradespeople, laundry services, catering services, food and beverage producers.
Prior to the COVID-19 pandemic, tourism contributed around $3.6 billion a year to the Tasmanian economy, or 11 per cent of Gross State Product. It directly provided around 22,300 local jobs in tourism, hospitality and connected industries, such as retail, accommodation, transport, pubs and bars, education and training, cafes, restaurants, tour operator and cultural services. Tourism also supported a further 20,900 jobs indirectly across industry sectors as broad as the construction, manufacturing, financial and insurance, education and training, health care, agriculture, forestry and fishing, and professional services sectors2. It is our collective challenge to reset and rebuild towards new agreed targets in the post COVID economy.
---
1 Tasmanian Visitor Survey 2019, Tourism Tasmania
2 State Tourism Satellite Accounts 2018-19, Tourism Research Australia